dougthecook Homemade Pizza

This is my favorite way of making homemade pizza. I have made this and small variations many, many times with great success.
Pizza Dough Recipe
Preparing the Pizza Dough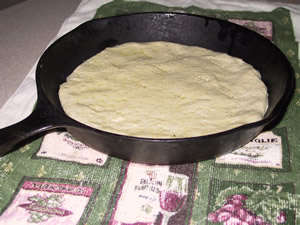 Pizza dough in iron skillet ready for toppings
Bring pizza dough to room temperature. Split dough in half.
Thinly coat bottom of pan with oil. I've used olive (not extra virgin) and canola.
Spread dough by hand to cover pan. Using a rolling pin damages the dough and makes it tough.

Poke the dough with a fork several times so it does not puff up during cooking. Do not poke all the way through the dough; just part way.

Brush the top of the dough with olive oil to prevent the sauce from soaking into the dough. To make the crust crisp cook the dough 10 minutes while the oven is warming up.

Pizza Sauce Recipe
Pizza Preparation
Spread the sauce to about one inch of the edge. Put on the your favorite toppings. Mine is mushrooms. Cover with shredded mozzarella cheese.
Cooking the Pizza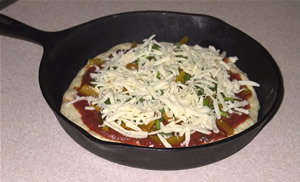 Pizza ready to go into oven
Put the pan on the bottom rack at 450 degrees for 20 minutes or until the cheese is slightly brown.
Doug's Notes
The oil on the bottom of the pan helps crisp the bottom of the crust.
---