dougthecook Pizza Sauce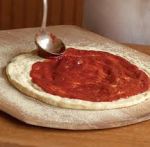 A great tasting and easy to make homemade pizza sauce. For better taste, make the sauce the night before so the flavors meld.
Ingredients
16 ounce (2 cups) petite diced tomatoes or fresh Roma tomatoes
1 tsp sugar
Spices
1 1/2 T dried oregano (or 2 T fresh, chopped)
2 tsp parsley flakes (or 4 teaspoons fresh, chopped)
1 1/2 tsp basil (or 1 T fresh, chopped)
1/2 tsp crushed dried rosemary
1/2 teaspoon garlic salt
1/8 teaspoon crushed red pepper
1/2 tsp fennel seeds
Directions
Mix together dried spices.
Heat olive oil on med-low in a medium saucepan. Stir in dried spices and let sit for 20 seconds or until fragrant.
Add tomatoes then sugar, stir, and simmer, uncovered, for 20 minutes.
Add fresh spices and cook another minute.
I reduced it until the sauce was as thick as molasses. The sauce was pretty chunky, which I like. If a thinner sauce is wanted, puree the entire finished product in a blender. Better taste is attained if left to sit overnight in the refrigerator.
Doug's Notes
If you are crunched for time, mix the ingredients and put right on the pizza. No cooking.
---