Best Pizza Dough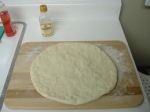 After trying many, many pizza dough recipes this is my favorite. I have made it several times with great success. I use a breadmaker though it turns out fine using a dough hook.
Ingredients
1 cup warm water (105 - 115 F). Use bottled water.
2 TBL corn oil (or extra virgin olive oil)
1 tsp salt
1 tsp sugar
1 tsp cream of tartar
2 3/4 cups white flour
1/4 cup whole wheat flour
1/2 cup cornmeal
1 tsp active dry yeast
Directions
For breadmaker:
Sift together the flours and cornmeal.
Put in water, salt, sugar, and cornmeal. I swish it around a little to ensure mixing.
Put in the flours and cornmeal mixture then then sprinkle yeast on top.
Mix on dough setting.


Let the dough rise for an hour then punch down. Put dough in refrigerator for 20 minutes (overnight is best) before making the pizza.


This recipe made enough for two 9 inch pizzas. I put the dough into a 9 inch iron skillet with sauce and toppings. Brush the dough with oil before putting on the sauce/toppings to prevent the sauce from soaking into the dough.
Doug's notes
When dividing dough, cut it with a scissors or knife.
Puncture dough with a fork but do not puncture all the way through. This prevents the dough from puffing during cooking.

---