Salmon Marinade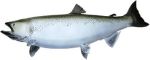 Salmon marinade takes about five minutes to prepare - waiting for the marinade to do its job takes an hour. The salmon is very tasty with no domineering flavor.
Ingredients
1 Salmon fish fillet
lemon pepper
garlic powder
Marinade
2 TBL soy sauce
1 TBL Extra virgin olive oil
2 TBL water
2 TBL brown sugar
Directions
Lightly sprinkle salmon with lemon pepper and garlic powder. Let sit for 15 minutes.
Mix marinade ingredients. Marinate salmon for 1 hour, turning after half hour. Discard marinade.
Saute or grill salmon in heating oil 2 minutes per side on medium.
Doug's Notes
Be sure salmon is at room temperature before cooking. I like to prepare marinade the night before so it has time to meld.
Do not marinate salmon over an hour or else it will become mushy.

---