Pulled Pork in a Slow Cooker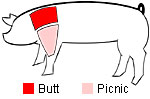 Making pulled pork is a great way to create mouth-watering BBQ sandwiches. The key is long, slow cooking at a low temperature (225 to 250 degrees F). At one time, pork butts were shipped in containers called butts.
Ingredients
1 pork butt, 5 pounds
Yellow mustard
1 onion, sliced
1/4 cup water
BBQ sauce (I like Maulls)
Directions
Trim fat off pork butt.
Slather the pork butt with mustard. Sprinkle a layer of pork rub all over the roast. Store, covered, in the refrigerator for a few hours.
Let pork come to room temperature.
Put pork butt in slow cooker on low and add water (to keep pork from sticking to bottom).
Add onions to pan, turn down to med-low heat, and cook until soft, about 5 minutes. Add on top of pork butt.
Add 1/2 cup water to pan (it will initially smoke alot) and scrape up the nice brown bits (fond) then pour over pork butt.
Cook pork butt mixture on low until the internal temperature is 195 degrees F (about 8 hours) - it is much easier to shred.
Take out pork butt, let rest (covered) 20 minutes, then shred with two forks.
Drain juices. Mix in BBQ sauce then add back shredded pork. Cook another 30 minutes on low.
Doug's Notes
Since my slow cooker is 4 quarts, I cut the pork butt (5 pounds) in half and freeze the other half.
Slow cooking will produce a lot of moisture in the pot.
The pork rub keeps moisture in and adds a nice taste.
I use a Polder remote thermometer to monitor the temperature.
The internal temperature of the pork butt should be 195 degrees F for pulled pork. Though normally pork is done when the temperature is 170 degrees F, pulled pork needs to be more well-done so it pulls into shreds.

---