Philly Cheesesteak Sandwich Recipe

This is inspired by the original Pat's King of Steaks in Philadelphia, PA.
Ingredients
6 oz deli roast beef (or sirloin, eye of round, or rib eye) sliced very thin, cut into 1 inch slices
Provolone cheese (or American or Cheez Whiz)
8 inch hoagie roll, toasted both sides
1/2 cup onions, thin sliced, caramelized.
2 tbsp extra virgin olive oil
salt & pepper
Mushrooms (optional)
Directions
Spread open hoagie.
Cook onions in oil on medium until nearly brown. Add meat and cook for 3 minutes until lightly browned.
Put provolone on top of mixture until melted. Scoop everything onto hoagie with cheese on top.
Doug's Notes
Some pictures show long onion slices, others show diced onions. I find eating the diced onions easier (so you don't end up with a long onion hanging).
The original PCSS used provolone. American cheese and Cheez Whiz were later options.
Mushrooms are not an option at Pat's but they taste good in the sandwich. I've seen places add green pepper, too.
Pictures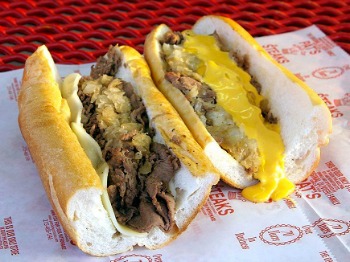 From Pat's King of Steaks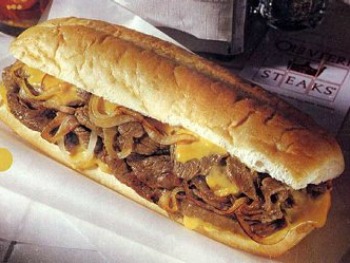 Another Philly Cheesesteak picture from Pat's
---