Cranberry Grand Marnier Sauce

This sauce is an excellent side for Thanksgiving (or any other time). I have made this many times and always get kudos.

Ingredients
12 oz fresh or thawed frozen cranberries
1 1/4 cup sugar (or 1/2 cup sugar, 3/4 cup Splenda)
2 TBL frozen orange-pineapple concentrate, thawed
2 TBL Grand Marnier
Directions
Sort through the cranberries and discard soft or spoiled ones. Rinse and drain berries.
Preheat oven to 325 F. Place cranberries in a 9 inch glass pie pan. Sprinkle sugar and orange-pineapple juice over berries. Cover tightly with foil
Place on a cookie sheet (in case mixture drips) and bake about 1 hour. Stir after 1/2 hour.
Uncover and mix in Grand Marnier. Cover and cool in refrigerator.
Doug's Notes
Instead of a pie pan covered with foil, I successfully used a covered round baking dish like this: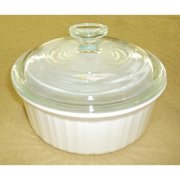 You can bake these uncovered but there will be much less juice after it is done.
---