Pink Fluff Heaven Cake Recipe

What a name for a dessert! Easy to make and healthy. I tried this at a 2008 new year's eve party and it was yummy.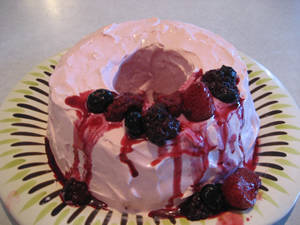 Ingredients
1 oz. box Jello (sugar-free, fat-free) White Chocolate Instant Pudding Mix
1 cup Skim milk
8 oz. container of Lite Cool-Whip
6 oz. container of Yoplait Pina Colada yogurt
4 drops red food coloring
Angel food cake
Directions
Pour the pudding mix into a medium-sized bowl and stir in the cup of milk until smooth.
Add the cool whip and yogurt (and coloring, if you wish) and stir until mixed thoroughly.
Chill in the fridge (30 minutes minimum) before serving as a dip. If frosting a cake, place finished cake uncovered in fridge for a few hours to let it set.
Serve the cake with fresh or frozen berries of your choice.
Serving Ideas
The frosting also doubles as a fruit dip. Try apples, strawberries, grapes, or melons.
Credit
Thanks to Addison in Illinois who is 9 years old!
---